Dobry kosmetyk na noc? To must have większości kobiet na całym świecie. Zwłaszcza tych, które już wiedzą, że nocą skóra regeneruje się więc potrzebuje solidnego wsparcia.
Zgłoszeń w kategorii "Najlepszy Kosmetyk na Noc" było całkiem sporo. W głosowaniu najwięcej punktów zdobyła Nocna Maska NCEF marki Filorga.
To więcej niż zwykły krem: oddziałuje na procesy wydzielania melatoniny i przeciwdziała efektom braku snu. Ponadto maksymalizuje dobroczynne działanie nocnego odpoczynku dzięki zastosowaniu składników aktywnych używanych w preparatach do mezoterapii iniekcyjnej, które wnikają w skórę i podczas nocnych godzin przynoszą widoczny efekt regeneracji.
Co dobrego w składzie?
NCEF - unikalny kompleks rewitalizujący, zawierający kwas hialuronowy i 50 składników w stężeniach podobnych do tych, które występują w preparatach do mezoterapii iniekcyjnej. NCEF stymuluje aktywność komórek i przywraca skórze młodzieńczy wygląd.
Melatonin'CX - to kompleks oparty na ekstrakcie z albicji jedwabistej. Pobudza syntezę melatoniny, czyli hormonu snu, a także uruchamia i reguluje procesy naprawcze zachodzące w skórze nocą.
Ekstrakt z indygowca barwierskiego - stosowany w medycynie ajurwedyjskiej, zwalcza stres oksydacyjny nagromadzony w ciągu dnia i przywraca skórze blask. Tajemnica jego działania kryje się we właściwościach zmniejszających produkcję kortyzolu, czyli hormonu stresu i uruchomieniu syntezy beta-endorfiny -neuropeptydu o funkcjach opioidowych.
Maska na noc to produkt o niezwykłej galenowej formule, która otula skórę zmysłowym kokonem i daje natychmiastowy efekt odświeżenia. Wyjątkowa konsystencja: błyskawicznie się wchłania, nie zostawia śladów na pościeli ani resztek produktu na twarzy o poranku.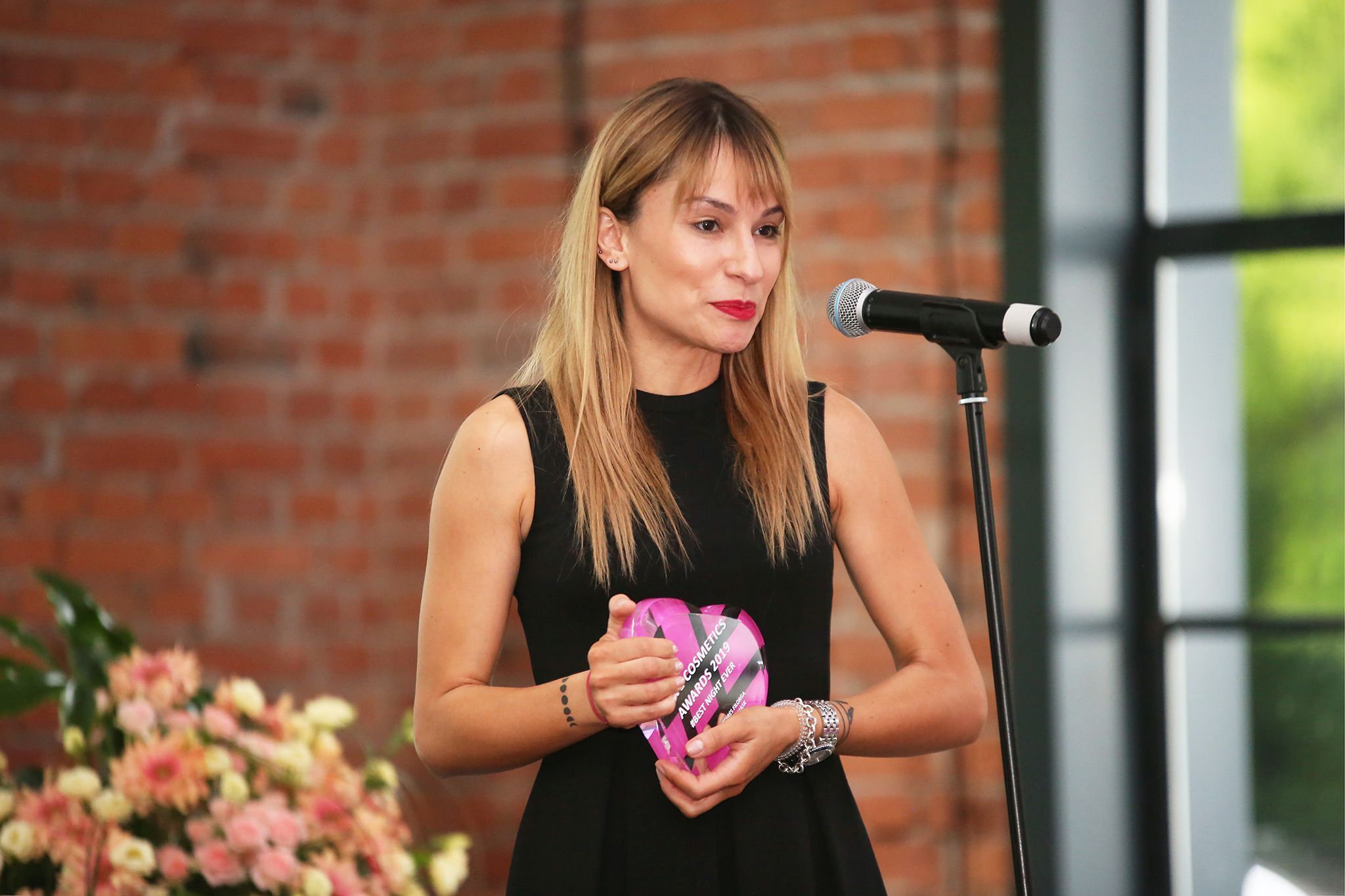 Nagrodę Love Cosmetics Awards odebrała Marketing Manager - Marta Oborska.
# KONKURS