There are brands that base their entire work on science and latest yet well-researched professional skincare solutions. Dr Irena Eris is a Polish brand that closely follows this trend. The result? Loyal customers who can rest assured that they will receive quality over all matters and without compromise!
Cosmetics are a combination of breakthrough recipes, advanced technology and pure beauty. The latest achievements in the field of cosmetology are reflected in every cream. The products provide comprehensive care: skin cleansing, daily care with the use of appropriate creams, the possibility of using specialized preparations with concentrated action and complementary care in the form of facial masks with surprising formulas. Facial care becomes a ritual that gives the skin everything it expects from us.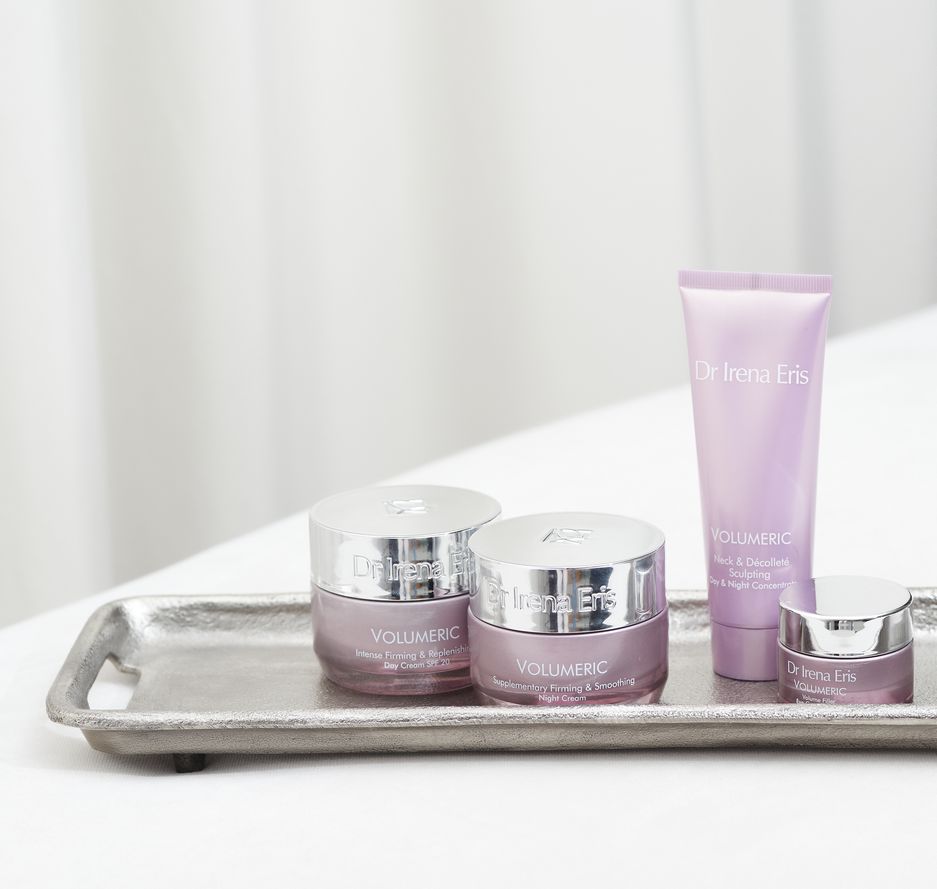 Dr Irena Eris Volumeric is a range of cosmetics which intensively firm the skin and restore the lost volume to the face, thanks to the synergy of two-way modelling of wrinkles. Its unique Telomere-Lift complex guarantees an anti-wrinkle lipo-filling effect, improving the external architecture of the face and it initiates deep regenerative processes at the molecular level (telomere stabilisation, prolongation of the cell life cycle*), thereby reducing wrinkles and rejuvenating facial contours.
A series for skin with visible wrinkles and irregularities, additionally accentuated by the progressive loss of facial volume, and for skin in need of a strong firming and wrinkle-filling effect.
Our Winner - Dr Irena Eris Volumeric Neck & Deccolete Sculpting Concentrate
Neck & Décolleté Sculpting Concentrate This formula is targeted at intense firming and improved tightness of the fine skin on the neck and décolleté. A novel Telomere-Lift complex, enriched with a tri-peptide, stimulates intercellular communication*, reducing laxity and improving the elasticity of the skin. It effectively smooths out and fills wrinkles in a multidimensional way. Precious oils and liquid wax have a revitalising effect.
*In vitro test. Dermatologically tested. Avoid direct sun exposure.
This is the perfect cosmetic for the 21st century tech-neck challenge! The stooped posture associated with frequent use of tablets, cell phones and computer work unfortunately results in the appearance of visible wrinkles in the neck area. There is a challenge - there must be a solution!
The Jury was astonished with this product and its high effectiveness. We value the way the brand promotes going beyond the face in the slow-age skincare by including the neck and décolleté as both areas are often left out in daily skincare. A daily dose of innovative, pleasant, and a bit luxurious skincare products is what we need to feel comfortable every single day – regardless of age! This effective combination has proved highly effective in this year's Love Cosmetics Awards, as well.
# GLOBAL