Elegant, charismatic, and confident – that's the Bespoke London man. The series came to life with an idea of men who appreciate the small details and enjoys life to the fullest. The fragrance range was inspired by luxurious materials and fashion accessories that altogether capture a quintessentially British essence of style.
What struck us the most…? Without a doubt, the manly smell that will appeal to a wide range of young men and mature gentlemen. These fragrances have been created for customers who put quality above all else. The scent will not disappear in an hour - it's definitely long-lasting. There is no artificial aroma or over-the-top effort, and nothing is unnecessarily exaggerated – each of the bottles contain a balanced and discreet scent that works exactly the way it is supposed to.
The products are available in Eau de Parfum & Eau Fraiche and given their characteristic fragrance blends, Bespoke London managed to cover a variety of male tastes – especially considering individual preferences based on lifestyle and different occasions for which each scent is chosen.
The Jury panel of Love Cosmetics Awards and our contest testers could not come to a conclusion regarding the best scent as it is always a very individual choice based on personal tastes, memories, imagination… Since the whole nominated series is consistent and extremely interesting, each of the fragrances make you confident; spreads a pleasant aura of sensuality; and intrigues with selected ingredients.
Sweet Spice & Sandalwood
A confident man needs a fragrance to match, and Bespoke Sweet Spice & Sandalwood is the perfect choice of Eau de Perfum. Vibrant notes of nutmeg, bergamot, and saffron blend with jasmine and orange blossom, before revealing a layer of sumptuous sandalwood and vetiver accords.
Fresh Citrus & Vetiver
Zesty notes of fresh ginger and mandarin set the tone for this fragrance. The scent holds classic notes of vetiver, amber, musk, and patchouli, creating a zesty and energising character.
Wild Herbs & Tonka Beans
The Bespoke Wild Herbs & Tonka Beans is a refreshing and sophisticated Eau de Parfum that opens up with fresh accord of rosemary and sage, progressing into warming nutmeg and ginger, and finishing up with an aromatic layer of tonka bean and cedarwood.
Oriental Woods & Amber
Saffron and tabacco accords create a fragrance blend that is both mysterious and captivating. Olfactory notes of sandalwood, mush, and amber smoothly complement this enriched and enticing Eau da perfume.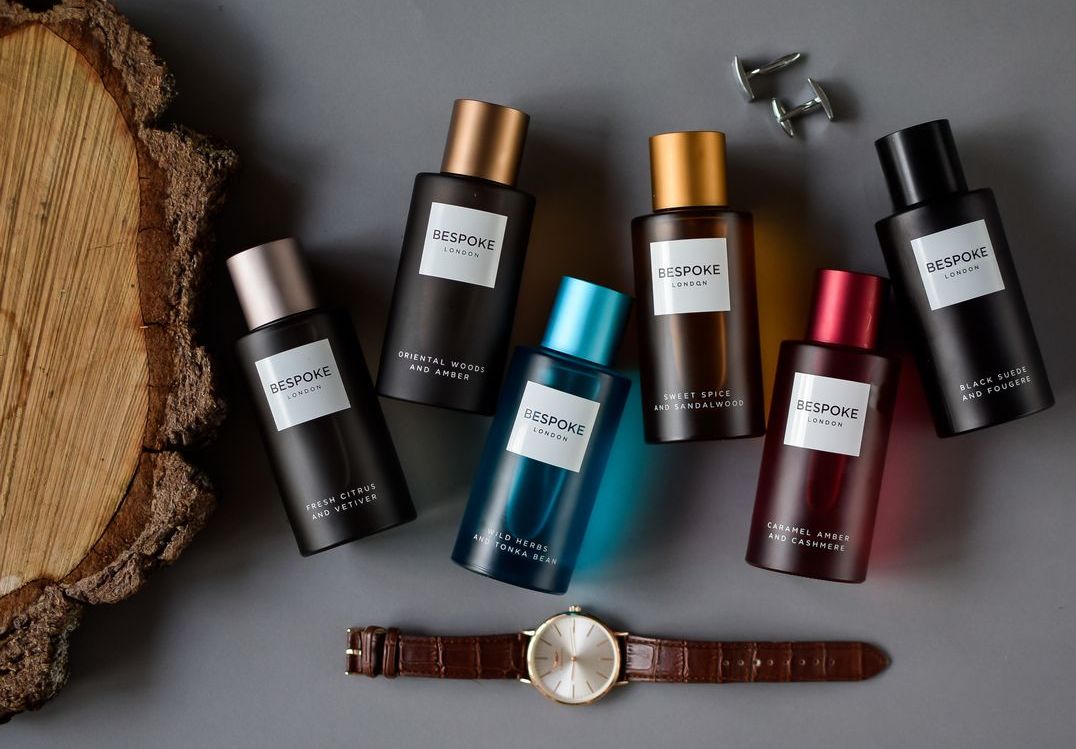 Easy to grab in Rossmann stores all around Poland. They are distributed by 4Beauty 4You company.
"Perfume puts the finishing touch to elegance – a detail that subtly underscores the look, an invisible extra that completes a man and a woman's personality. Without it there is something missing." – this famous quote by Gianni Versace definitely captures the subtle charm of the fragrances. At Bespoke London, we can find an English fondness for the classics and timelessness, with an equally English tendency to break patterns and surprise. This combination captivates with its unpretentiousness, modernity, and sensuality. The products speak for themselves. They speak for us, and about us. Such a great project!
# GLOBAL